6. Sig Sauer P220 Super Match Full Size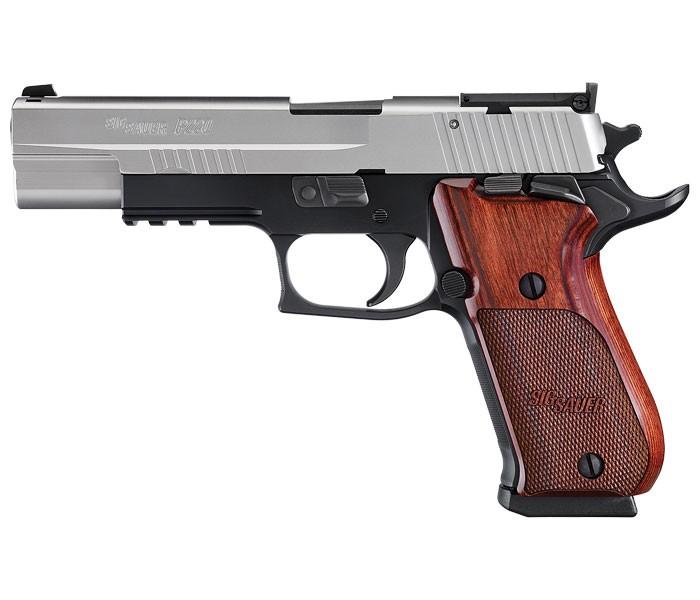 When it comes to both style and performance, SIG Sauer is one of the leading companies in the industry.
If you want a gun that is as sleek as the S&W Performance Center 1911, but is also well-rounded and practical in every situation, the P220 Super Match Full-Size will be the gun of your dreams.
OK, it's basically a 1911, but it doesn't have 1911 in the name!
Its superior craftsmanship and excellent functionality make it the perfect gun for collectors and shooters alike.
Specs
Single/Double action trigger with reduced trigger reset
5" barrel length
7+1 capacity
39.1 oz
The P220 Super Match Full-Size is one of the finest .45 caliber pistols you'll come across.
Its grip has enough grab to sit safely and comfortably in your hand without being rough enough to cause discomfort.
However, one of the downsides of the P220 is that it can feel a bit unnatural to people who have smaller hands, so make sure and properly test the gun before making a purchase.
The P220 Super Match Full-Size's DA/SA trigger system reduces the trigger reset travel by 60%, making it easier to fire follow-up shots.
While this is one of the more favorable features of the gun, it can take some getting used to – especially if you're someone who isn't used to this type of trigger.
If you purchase this gun for self-defense, be sure to spend some time on the range getting used to the trigger system and de-cocker function.
Pros
Unparalleled craftsmanship
Slide-release and de-cocker easy to access
Improved accuracy with short reset trigger
Easy to mount attachments like lasers and flashlights
Cons
Size can be hard for some people to control
Not optimal for concealed carry
Trigger system takes some getting used to
Below-average capacity
The P220 Super Match Full-Size retails for around $1,200, making it one of the most expensive .45 ACPs on the market.
However, if you can afford the expensive sticker price, the P220 is a great gun to have.  You'll might even get a lot of looks from interested enthusiasts if you plan on spending a lot of time at the range with it.