5. Glock G21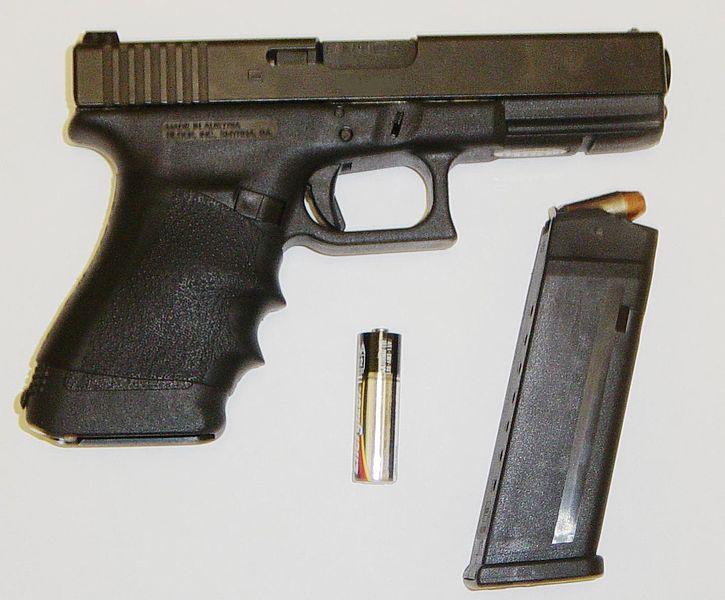 You'll be hard pressed to find a list of top pistols without Glock making an appearance.  Whether you love or hate them, Glocks have a reputation for excellence that is well deserved.  The .45 ACP Glock G21 is no exception.
Specs
Glock Safe Action trigger
4.6" barrel length
13+1 capacity
29.8 oz
The Glock 21 sets the standard for durability and performance.  If you're looking for a .45 ACP to put in significant range time with, you'll be pleased to know that this gun will meet all of your expectations.
If you're used to shooting Glocks, comfortably holding the Glock 21 shouldn't be a problem.
It has the same rectangular designed that the company is known for.  However, if you're new to Glocks, you'll need to take some time getting used to the way the gun feels in your hand.
If you find Glock pistols to be extremely uncomfortable, test out the Glock 21 SF.  It's a slimmer version of the gun that's designed to maximize comfort for people with smaller hands.
For some firearm owners, the way the Glock is designed is a deal-breaker, so make sure that you give yourself the opportunity to hold the gun before you buy it.
A component that is common across Glock models is the striker-fired feature, which removes the need for a protruding hammer.
The Glock Safe Action trigger is another feature that comes standard on Glocks, and is something that will take some getting used to.
It functions similarly to the SA/DA trigger system, except that it has the same pull weight for every shot.  While this can initially throw off your accuracy, it doesn't take long to become accustomed to it.
Pros
One of the most durable handguns on the market.
Added internal locking safety feature that prevents the gun from being fired.
Indicator that notifies you when the chamber is loaded.
Trigger reset feature.
Above average round capacity.
Cons
Uncomfortable grip that comes standard with all Glock pistols.
Bulky magazine.
Its block shape makes it difficult for concealed carry.
The truth is that most people who don't like shooting a Glock aren't fans of the stylistic component of the guns.
When it comes to functionality, there are few .45 caliber pistols on the market that can perform as well as the Glock 21.  It's durable enough to take neglect and abuse and continue to shoot accurately.
The Glock 21 sells for around $600, making it one of the best .45 ACPs on the market for the price.  If you're looking for a gun that known for unconditional dependability, regardless of the stress you put it through, the Glock 21 is your best bet.