4. Beretta PX4 Storm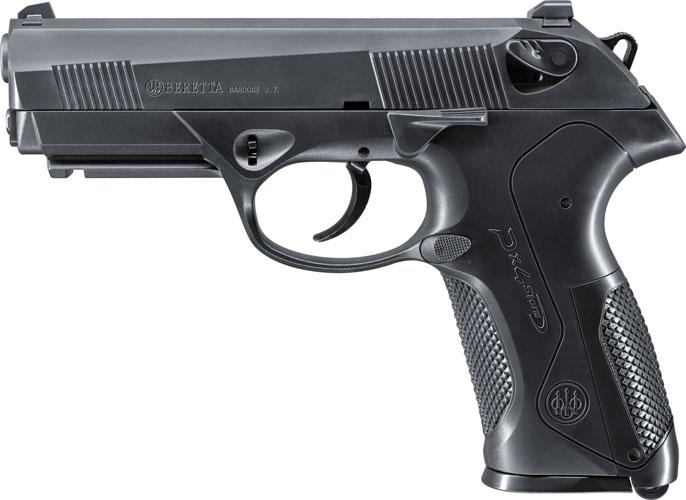 When it comes to self-defense, there's hardly a better handgun on the market than the .45 PX4 Storm.
What this pistol lacks in extra flair and features, it makes up for in performance and improved handling.
When Beretta designed the PX4 Storm, their goal was to create a gun that was optimized for one thing, shooting.  The result was a highly-accurate .45 ACP that beginners and proficient shooters can handle without any problems.
Specs
Single/Double action trigger.
4" barrel length.
9+1 capacity – also comes with an extended magazine for 10+1.
28.2 oz.
When you shoot the .45 PX4 Storm, you'll notice that it doesn't have the same amount of recoil as other .45 ACPs have.
This is in part due to a new locking design, which reduces recoil by rotating the barrel 45 degrees after each shot.  This, in turn, prevents your muzzle from rising as much as other .45 calibers, meaning that you can fire rapidly with improved accuracy.
Another factor that makes the PX4 Storm .45 ACP an excellent firearm to own is convenience.
Its ambidextrous features mean that you can use your right or left hand to engage the safety lever or de-cock the pistol.  You can even modify its magazine release buttons so that they accommodate your hand size.
Pros
Comes with small, medium, and large size grips for maximum comfort
Easy to hold in wet or dry conditions
Designed to accommodate all types of hand sizes
Lightweight and easy to handle
Cons
Expensive suggested retail price of nearly $1,150
Slide mounted safety can feel unnatural
Magazine springs are stiff
Along with the recoil being significantly reduced, another reason that the PX4 Storm shoots so accurately is because it feels comfortable to hold.
If you're looking for a well-rounded .45 ACP to own, the PX4 is one to seriously consider.  It's an easy gun to operate for beginners and advanced shooters.
The PX4 is slightly smaller than most .45 ACPs, so it's a bit more comfortable to conceal carry.