3. Taurus 24/7 OSS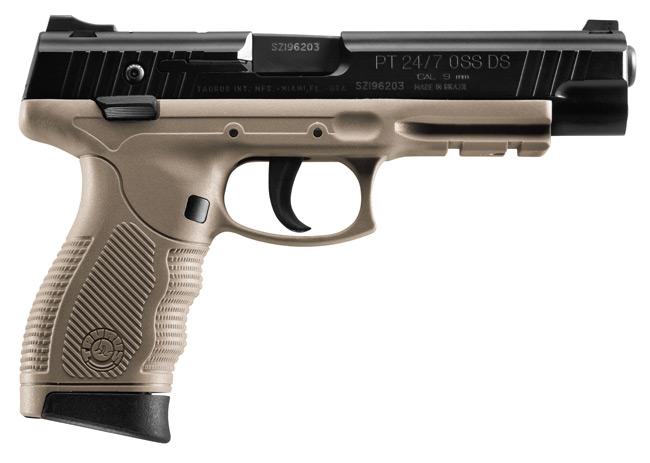 If you want a .45 caliber that's tactical and fun, the .45 OSS by Taurus 24/7 is the gun for you.
When developing this firearm, Taurus surveyed various Special Forces teams from different parts of the world.  Taurus then took that feedback and used it do make a weapon that is effective in virtually every type of combat situation.
Specs
Single/Double action trigger
5.25" barrel length
10+1 capacity
31.4 oz
The .45 ACP OSS is a sleek gun that feels great to hold.  It was designed to work with both left and right handed shooters, and all of its levers are able to be depressed without any issues.
If you're looking for an affordable gun with advanced features that don't come with the average pistol, consider the .45 ACP OSS.  Along with precision and durability, you also get the following functions:
A self-illuminating sight for improved accuracy in dark environments
An additional security system that locks the safety into place
Improved SA/DA trigger that has a consistent feel on the first and second pull
A life-saving trigger system that fires twice if the bullet's primer doesn't ignite on the first shot
Since Taurus designed the gun with military personnel in mind, they went to great lengths to ensure that the .45 ACP OSS is as reliable as possible.
It's durable enough to handle the most intense environments, including extreme humidity, blazing heat, and freezing cold.
It also is designed to shoot after being covered in dirt, mud, or sand.
But since the OSS didn't win the US Special Operations Command (USSOCOM) contract, it was soon discontinued which makes it a little hard to find. You'll likely have to look at auction sites for this unicorn.
Pros
Advanced slip-resistant grip that is easy to hold, even with wet or dirty hands
Added safety features
Optimized for self-defense
Very reasonably priced at $690
Cons
Advanced features require some time to get used to
Too big and bulky for concealed carry
Stiff and sticky magazine release
Discontinued