1. Smith & Wesson Performance Center 1911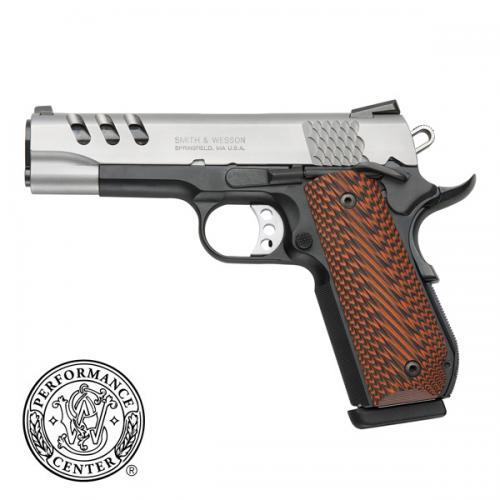 Getting the 1911 out of my system first!
If you're looking for a classic .45 ACP that's designed to be similar to the original M1911, then this gun is right for you.
It's inspired by the original 1911, but with a modern feel that brings this classic into the 21st century.
The frame of the pistol is made out of stainless steel and its grip is made from wood, making it a beautifully designed handgun. It's no surprise that it was ranked the second best pistol in 2013 by Handguns Magazine.
Specs
Single action trigger
4.25" barrel length
8+1 capacity
29.6 oz
You're going to be hard pressed to find a 1911 on the market that looks quite like this one.  It was built with excellent craftsmanship and is the perfect type of gun to go in a display.
Pros
Top-notch craftsmanship
Excellent durability
Ambidextrous safety feature
Cons
Expensive – suggested retail nearly $1,600
Grips are excessively rough, making carrying uncomfortable
Low capacity
The Performance Center 1911 is an accurate gun that is perfect for range shooting.
However, it is a little bulky for concealed carry compared to the other .45 pistols on the list.  We also recommend getting smoother aftermarket grips since the stock ones have been known to damage clothing.
If you're looking for something to take to the range or show off to your buddies, then this is the right pistol for you!